Our know-how is truly made in italy, since 1967.
La Turnia was founded in 1967 with the mastery, talent and passion for work of the founder, Giuseppe Savio. Located in a traditional wood-working district, the company grew and developed through dedication to wood turning of elements for chairs. At the end of the 1990s his sons Gabriele and Denis joined the firm: first as employees they learnt how to take advantage of the precious experience of their father, and then matured and began looking beyond and afar, with new stimuli and ideas. And then the years in which the global crisis began to bite...
For this reason, exploiting and improving its own potential, the company began to evolve and specialise in the production of wooden hangers.

Since 2013 Gabriele and Denis have been at the head of what is today a modern artisan firm, able to distinguish itself and diversify, to become the supplier for several of the most important fashion brands, for the most beautiful shops and showrooms in the world. La Turnia srl is a company that has made first craftsmanship and then innovation its strong points.
There are things that have remained unaltered, such as the passion for wood, handed down with the generational change.
Artisan tradition, the expression of Italian identity, which distinguishes the firm in international environments.
In 2016 La Turnia srl obtained FSC® Certification.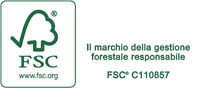 LA TURNIA, San Giovanni al Natisone, Udine, Friuli, Italy, Europe, WORLD.